The events industry landscape has undergone a seismic shift in 2020, although forcefully but not all of it is bad. The pandemic hit the global industry all of a sudden, leaving very little time to prepare for the time ahead. Economies were hit hard, industries were impacted but the digital age innovations kept the growth curve in the positive quadrant.
2020 pushed a majority of the predictions of event industry trends down the drain as event professionals move ahead and try to anticipate the future of the industry, here are a few statistics that would help the event industry professionals to establish benchmarks within the industry in 2021.

1) According to a report published by Allied Market Research, the Global event industry was valued at $1,135.4 billion in 2019 and expected to reach $1,552.9 billion by 2028: The surge in the number of attendees at business seminars and counseling programs, increase in globalization of business, and rise in demand for non-traditional event spaces have boosted the growth of the global event industry.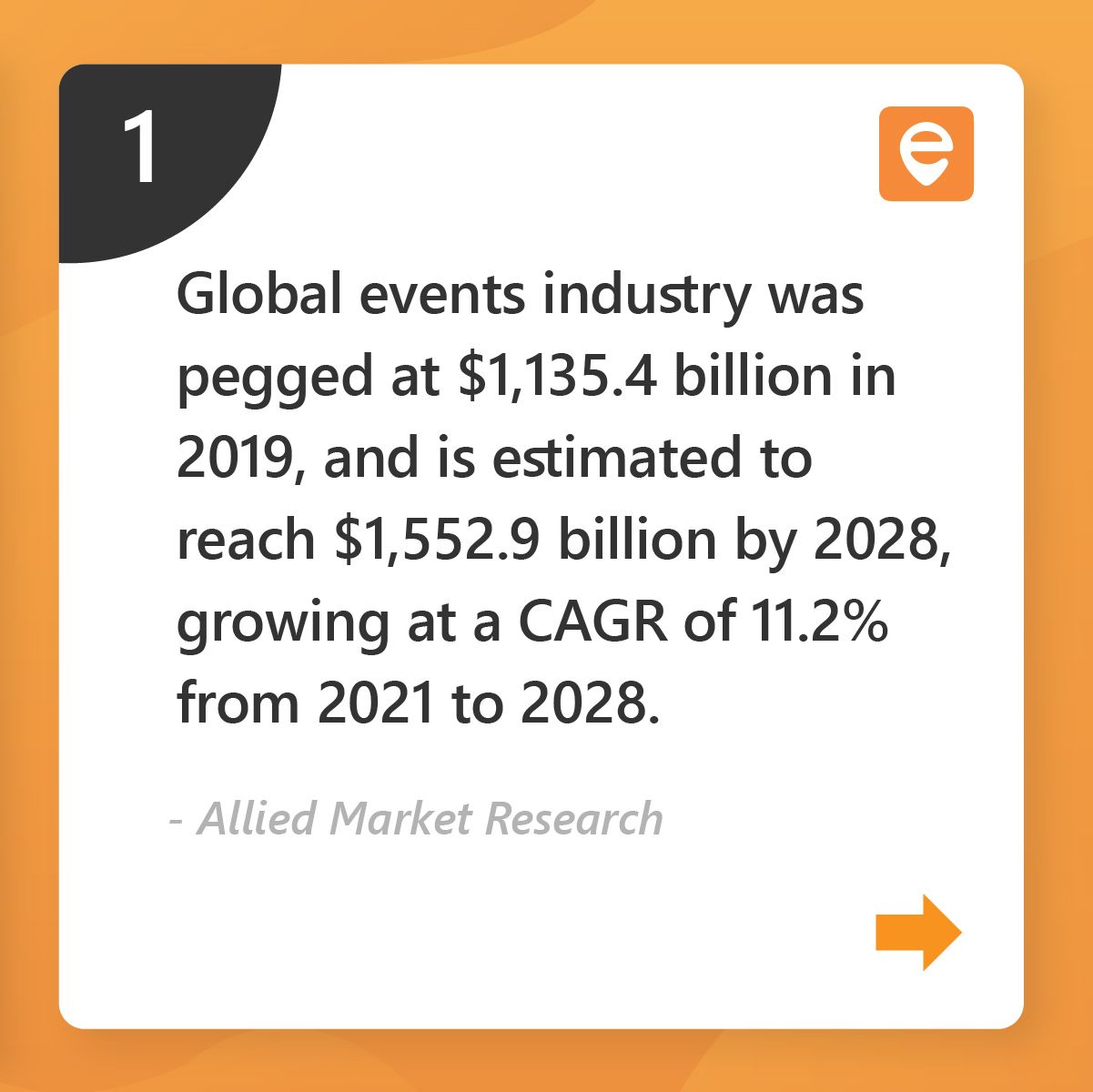 2) Over 97% of marketers are assured that Hybrid events will become more obvious moving ahead. Hybrid events will connect the best of both virtual and in-person expertise and all set to tone the events industry's future. Given that the majority of marketers feel positive about the return of in-person events in 2021, and virtual offers its own set of benefits like reaching a wider range of attendees which follows that hybrid events will be a key player in the near future. (Bizzabo,2020)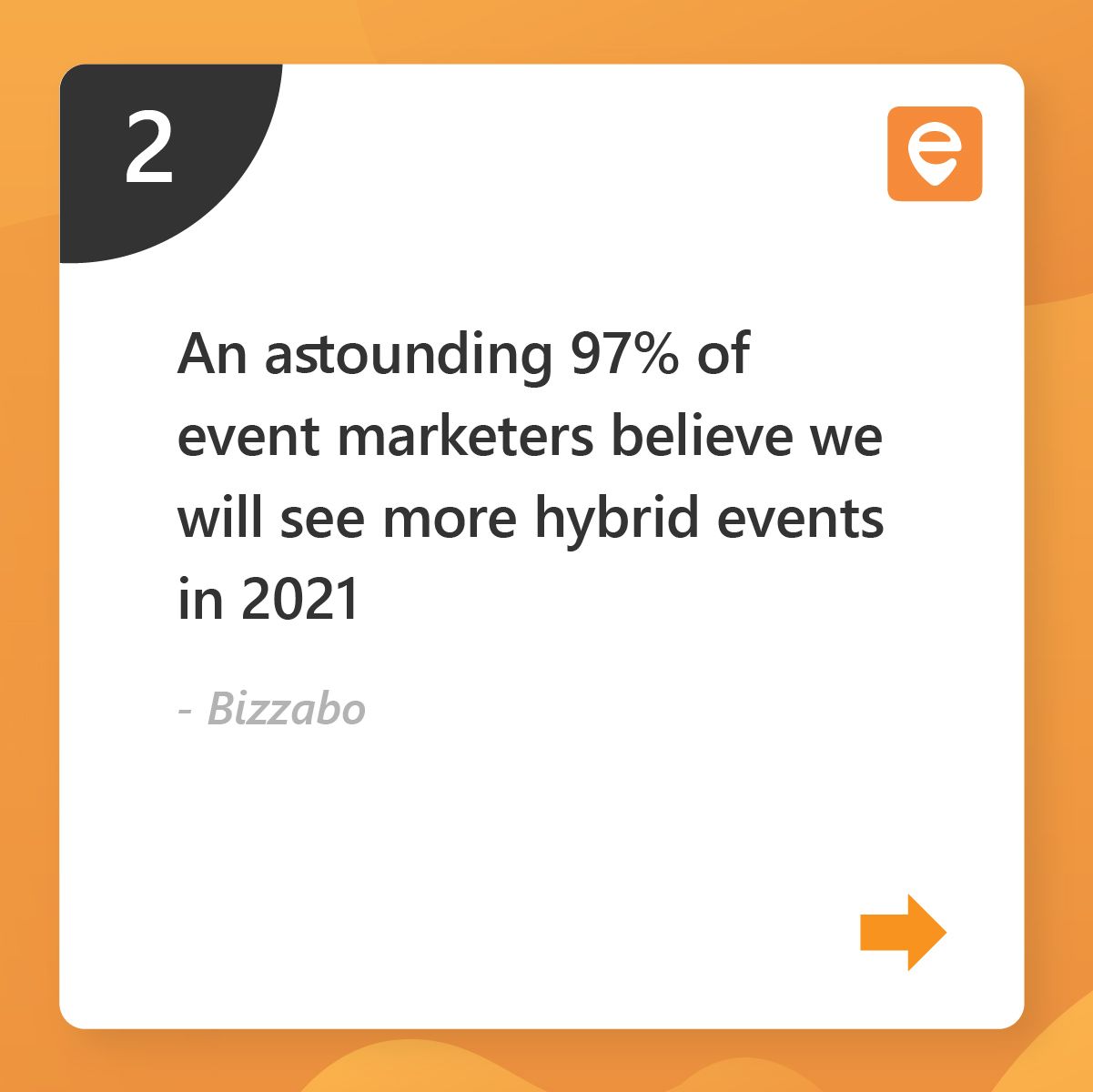 3) According to a survey by AMEX, 23.6% of event organizers will incorporate a virtual component in 2021 or will host small-scale events with a cap of 25 attendees without the need for attendees to travel or book hotel rooms.
4) 35% of virtual and hybrid events would require the services of a full-service agency, which, depending on what is required, could provide presenter training, pre-recorded interviews, virtual studio space, and post-event, edited sessions made available to attendees. (AMEX, 2020)
5) 50.7% of the event professionals believe that in the future all live events will have a virtual dimension. (Marketing Charts, 2020)
6) 65% of B2B marketers plan to reallocate some or most of their live event budgets to online events, such as webinars. (Event Marketer, 2020)

7)The majority (72%) of respondents project overall B2B marketing budgets will increase, stay the same, or only be cut moderately (by less than 20%). (Event Marketer, 2020)
8) 95% of marketers agree that live events provide attendees with a valuable opportunity to form in-person connections in an increasingly digital world. (Aventri,2020)
9) The majority of marketers (63%) intend on investing more in live events in the future both in budget and number of events. (Helloendless,2020)
10) 80% of business companies that are outperforming in terms of company goals will increase their live event budgets next year. (Eventage,2020)
Although we all are collectively eager to return back to the pre-COVID era, one thing is certain – things will never be the same. The year 2021 will be an opportunity for event professionals to reset, rethink and reimagine the events so that the roadmap to recovery stays resilient and sustainable.