For nearly a century, supercars were considered the world's most elite stratum of vehicles that offered superior technology and high performance. But in the last couple of decades, a new class of innovation has emerged in response to the proliferation of supercars. More powerful, capable and ludicrously expensive, hypercars represent the absolute pinnacle of modern technology and engine power with exasperated performances and sports aesthetics. With less than 1,000 units in production, these swift and steadfast automotive stunners offer the automotive industry's most cutting edge technology, taking the supercar concept to its furthest extreme.
Rapid advancements in technology have resulted in a myriad of super powerful and impressive hypercars. Lamborghini introduced the first hypercar, known as the Lamborghini Miura or P400, in 1963 which accelerated up to 60 mph or 96 kmph in under 6 seconds and on to a top speed of 180 mph or 289 kmph. Since then, a host of automakers have introduced new hypercars with sleek designs and superior technology, some of them are even propelled by hybrid and electric powertrains. The million-dollar, 1000 horsepower, 253 mph or 407 kmph, quad-turbocharged W16-powered Bugatti's barrier-shattering Veyron set the benchmark for hypercars in 2005. In the years that followed, Porsche, Ferrari and the limited-production, electrically-boosted McLaren P1 competed in the Veyron's wake for ultra-high-performance bragging rights with a trinity of hyper-hybrids. Bugatti is still ahead of the curve, with the Veyron's successor, the USD 3 million (2.5 million euros), 1,500 hp, 304 mph or 482 kmph Chiron.
Recent years have witnessed a massive influx in electric hypercar offerings with dozens of established players and startups tossing their respective hats into the proverbial EV hypercar ring and striving for lap time and spec-sheet supremacy. Major brands, luxury marques and supercar specialists are competing to make the biggest splash and produce the fastest, lightest and most powerful all-electric hypercars. Rimac's Concept One, introduced in 2011, was labelled as the first fully electric hypercar and was incredibly well-received for a car from such a small player. With four independent electric motors, one per wheel, the electric hypercar's torque vectoring technology was declared as a masterstroke. Since then, major performance cars and high-end luxury brands including Aston Martin, Ferrari, Lamborghini, etc. have also revealed their plans of producing all-electric hypercars quicker than Formula 1 race cars. From the Estrema Fulminea to the Pininfarina Battista and the Lotus Evija, a slew of electric hypercars are scheduled to hit the market between 2021 and 2030. Here's a rundown of some of the best looking electric hypercars announced to date.
Estrema Fulminea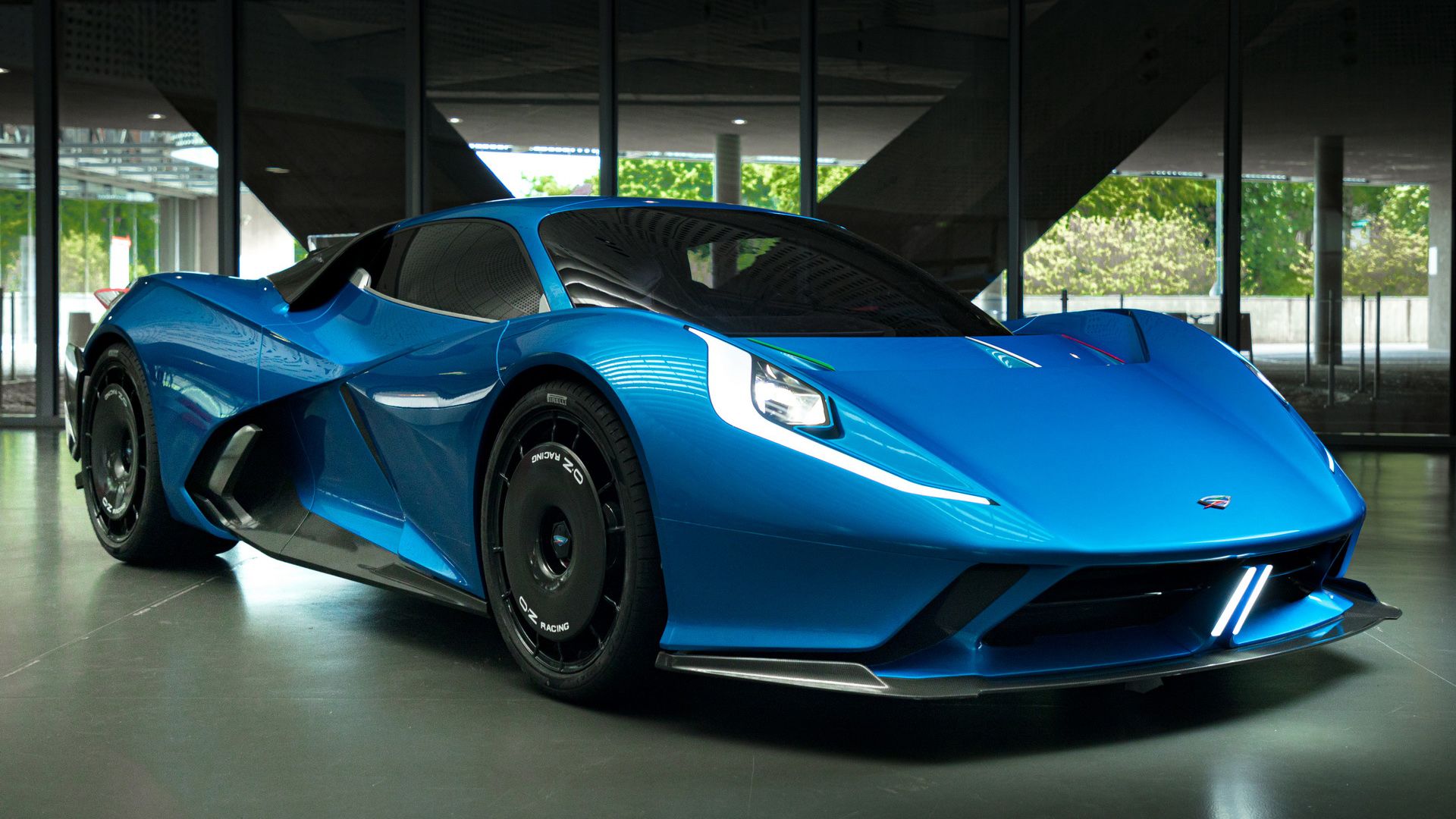 Estrema Fulminea, introduced in May 2021, is the first hypercar in the world with a hybrid battery pack using both ultra-capacitors and solid-state cells to power four electric motors with a total output equivalent to 2,040 hp. With a hybrid battery pack of 100 kWh, the swordfish inspired car can reach 0 - 62 mph or 99 kmph in less than 2 seconds and 200 mph or 321 kmph in just 10 seconds. The car's design is incredibly striking and elegant with many technological and material advancements including sculpted, active aerodynamic bodywork fabricated in carbon fibre that integrates a shark fin, rear wing and numerous intakes for heat management and airflow. The signature colour of Fulminea is inspired by azurite blue crystals and is finished in Azzurro Savoia with butterfly-style doors that open wide to invite passengers into a cockpit that is expansive and affords wide vision forward. Estrema Fulminea is expected to hit the market around the third quarter of 2023, and it will cost around USD 1.1 million (0.92 million euros).
2. Rimac Nevera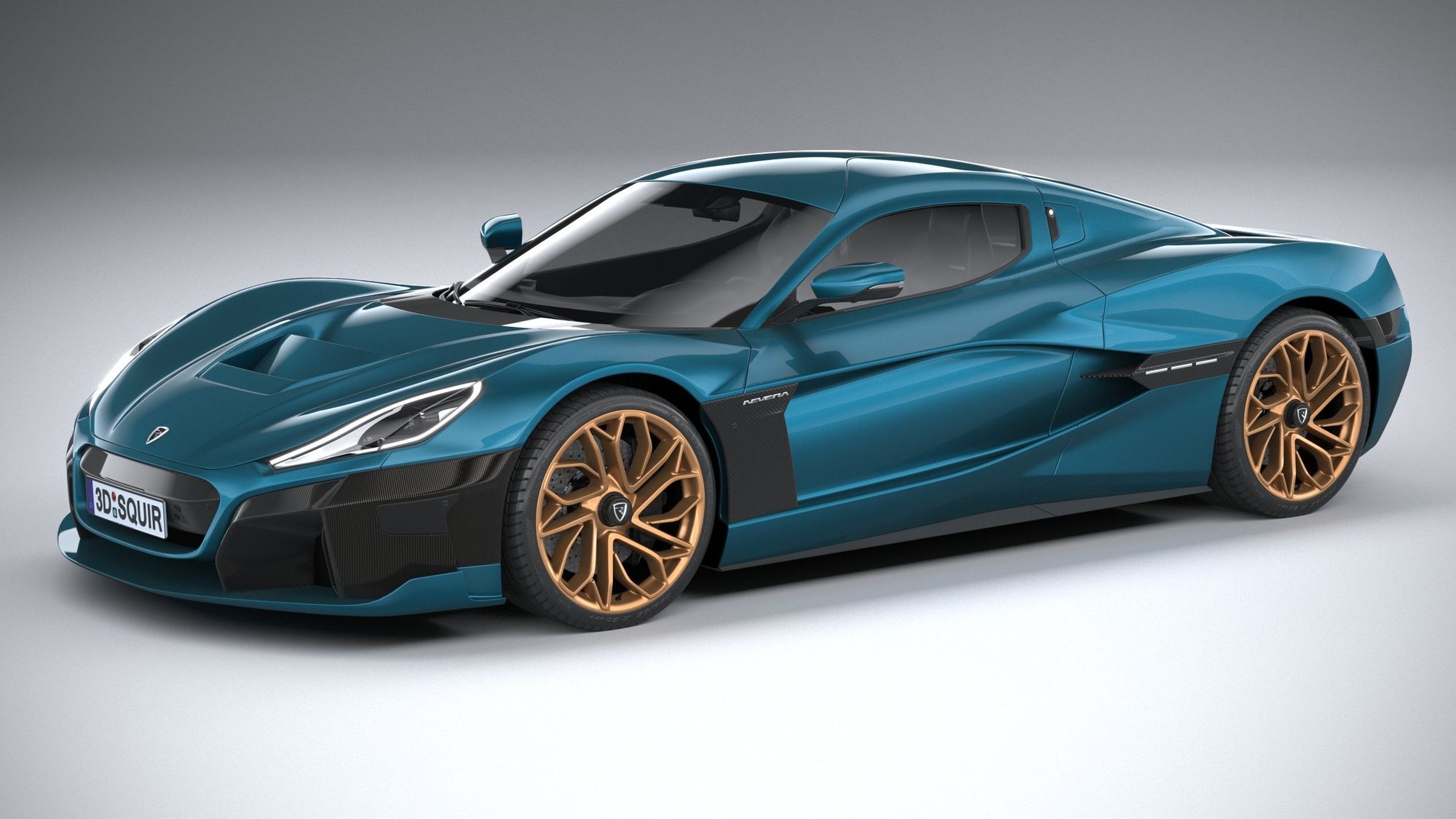 Rimac Automobili, a Croatian hypercar manufacturer and high-performance battery specialist, introduced the production-ready iteration of the Rimac C-Two concept hypercar in june. Faster than an F1 car, the Nevera features a quad-motor set-up making a total of 1,914 horsepower and 2,369 Nm of torque that takes the electric hypercar from 0 to 60 mph or 96 kmph in just 1.85 seconds. The Nevera comes with a new monocoque design with an integrated structural battery pack. The hypercar is an aerodynamic marvel with active aero on the underside, body panels which include the bonnet, rear diffuser, underbody plate and rear wing. The Nevera also features a 'high downforce' mode and a 'low drag' mode, with the former improving stability while cornering etc, and the latter improves aerodynamic efficiency for straight-line speed. The all-electric 258mph hypercar is priced around USD 2.3 million (1.9 million euros).
3. Terzo Millennio Lamborghini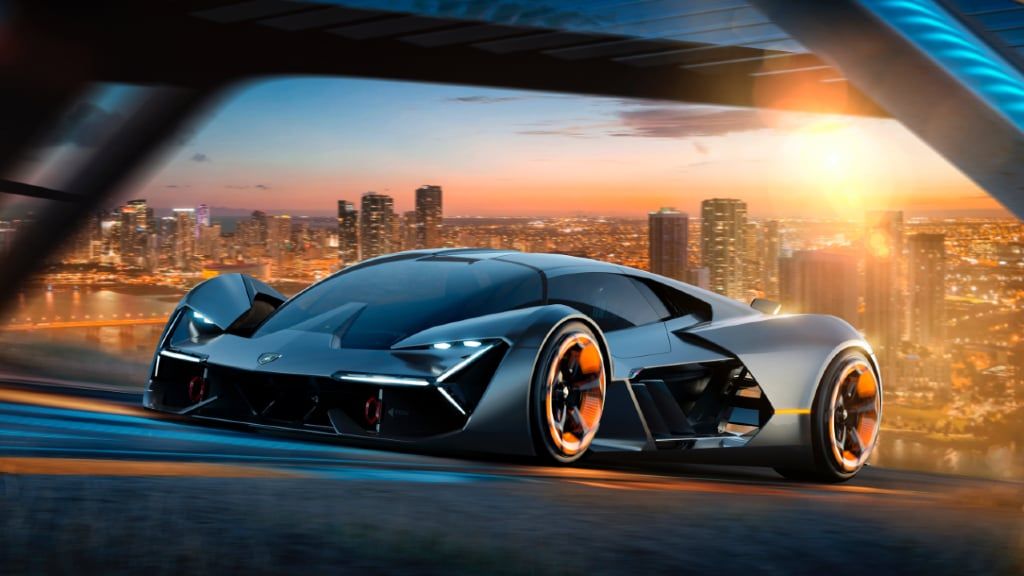 The Lamborghini Terzo Millennio or 3rd millennium is the company's first electric hypercar that it has developed in collaboration with (MIT Massachusetts Institute of Technology). In 2016, Lamborghini signed an agreement with MIT Italy for producing the future Lamborghini electric car. The Terzo Millennio project focuses on five distinct areas - energy storage, innovative materials, visionary design, propulsion system, and emotion. In terms of energy storage, Lamborghini shifted from conventional batteries and adapted supercapacitors similar to the low voltage supercapacitors in the stop-start system of the V12 Aventador. The company is working to develop a storage system for producing higher output and regenerating kinetic energy. Furthermore, Lamborghini is utilising carbon fibre structures in the design and production of support energy storage systems. The Terzo Millennio has a futuristic design, which is coupled with new technologies. The company will support the technology by which it can monitor the carbon fibre structure and provide health monitoring to detect cracks and damages from accidents. The concept of self-healing will be done by micro-channels that will reduce small cracks in the structure.
The Lamborghini Terzo Millennio will also use a highly advanced monocoque architecture based on Lamborghini's Forged Composite technology that will have only the energy accumulation system and driver and co-driver seat. Each wheel of the hypercar will come with an integrated electric engine, leading to freedom for aerodynamicists and designers. The electric hypercar is rumoured to be priced at around USD 2.5 million (2.1 million euros).
4. Lotus Evija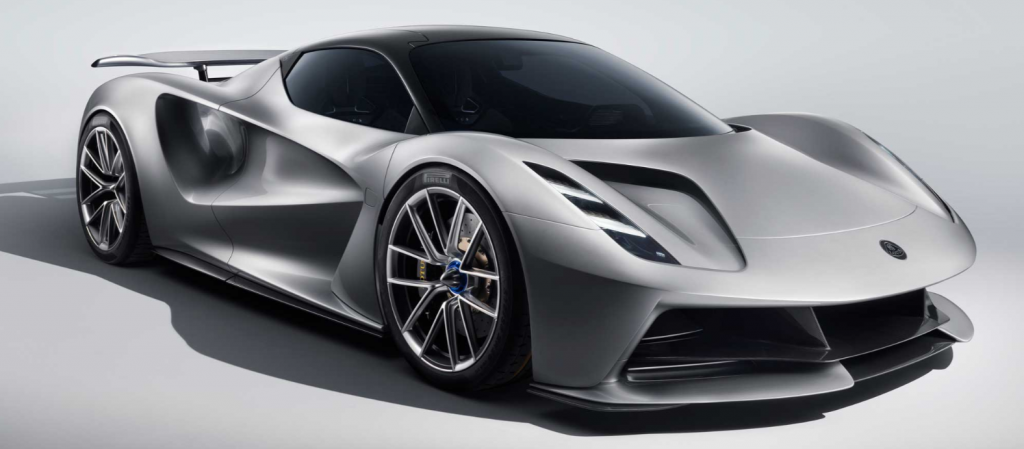 With hybrid powertrains, the Lotus Evija aims to push the boundaries of modern hypercar technology. As per Lotus, the Evija delivers almost 2000 horsepower, making it one of the most powerful production cars on the planet. The hypercar has a targeted range of approximately 250 miles, and it comes with an ultrafast charging setup capable of getting a complete recharge in just 9 minutes. The Evija's styling is penned by Lotus's design director Russell Carr and draws inspiration for its exterior design from Le Mans sports cars and Formula One racers. The car is based on a bespoke carbon-fibre monocoque chassis and its sheet metal includes elements such as butterfly doors and a large rear wing. The hypercar features three spool-valve dampers, one at each corner and an inboard-mounted third damper to control heave. The front splitter is inspired by the Type 72 Formula 1 car and is designed to help cool both the front axle and the battery. An active rear spoiler has also been integrated into the bodywork to improve aerodynamics and performance. Only 130 models of this cutting-edge hypercar will be built, each priced at more than USD 2 million (1.6 million euros).
5. Dendrobium D-1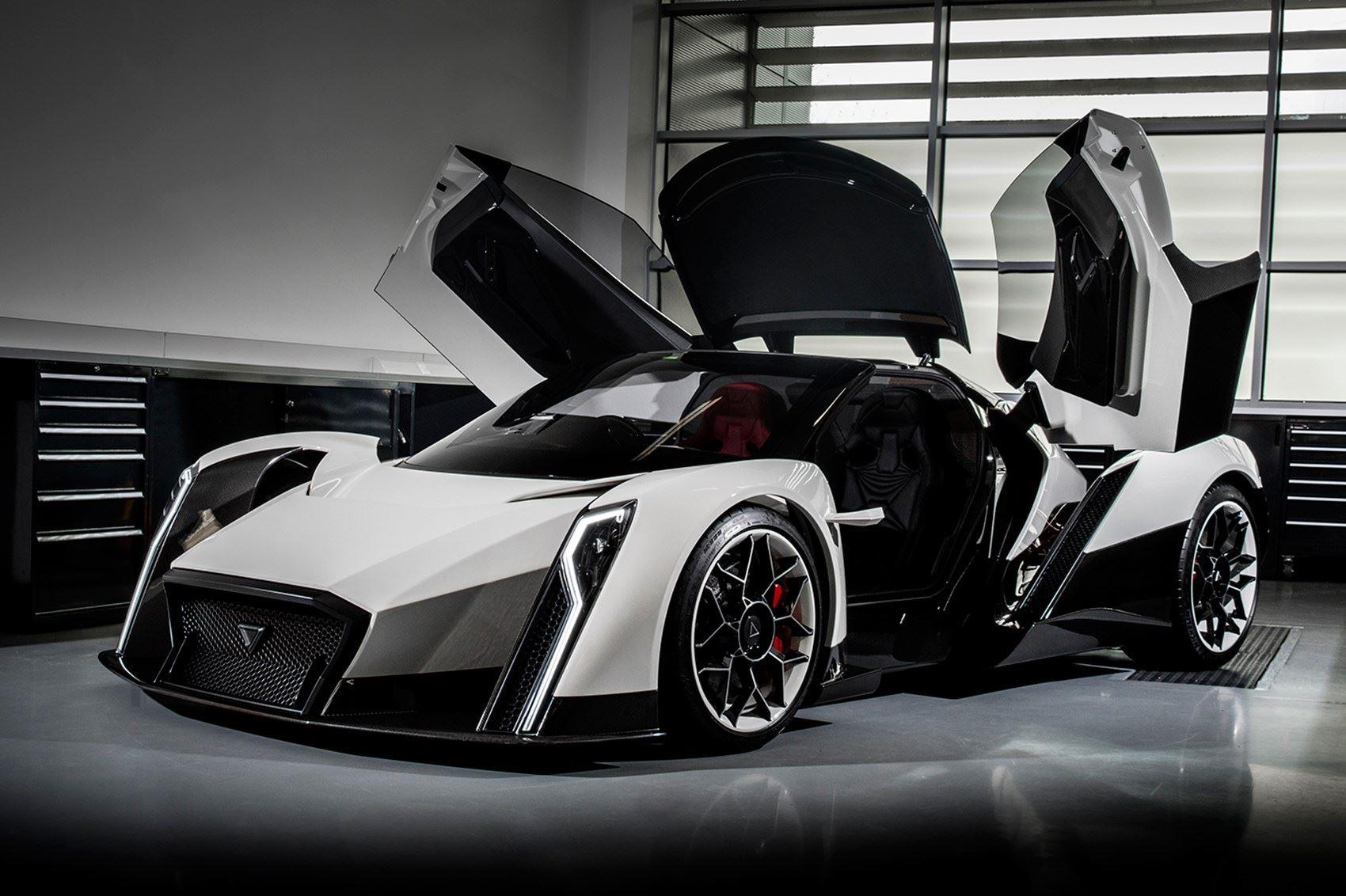 Vanda Electrics revealed the Dendrobium D-1 at the 2017 Geneva Motor Show as a futuristic-looking zero-emissions hypercar. The hypercar boasts impressive features including two electric motors with a combined power output of 1,800 bhp output, a maximum torque of 2,000 NM and a target weight of 1,750 kgs. The Dendrobium reaches from 0 - 62 mph or 99 kmph in 2.7secs and has a top speed of over 200 mph or 321 kmph. The car is crafted by McLaren F1 designer Peter Stevens and is based on a hybrid structure made of carbon fibre and advanced composites and alloys. The Dendrobium has been designed with nature in mind, especially the rear-hinged doors and roof opening system. The single rear light has a honeycomb design while the headlights resemble a waterfall. Dendrobium Automotive's engineers have utilised the latest technology, including state-of-the-art energy storage and power delivery systems with exposed struts and springs visible in the wings. It is currently lined up for production and is expected to come with a price tag of USD 2.44 million (2 million euros).
6. Pininfarina Battista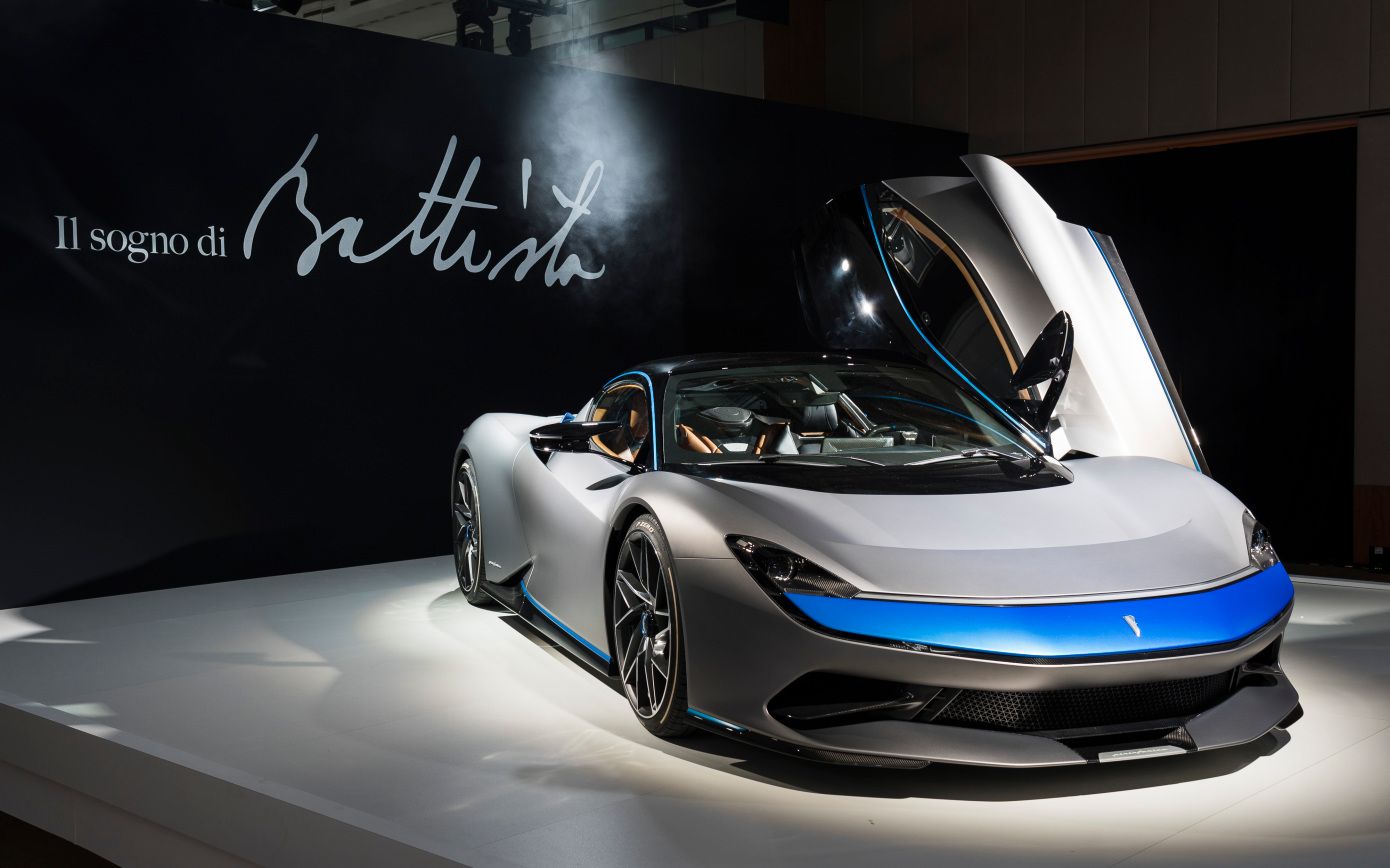 Automobili Pininfarina's all-electric Battista is the fastest street-legal hypercar that reaches 60 mph or 96 kmph in less than 2 seconds and produces 1,900 horsepower. With its four electric motors, a 120kWh battery pack, and an almost identical powertrain to the Rimac C Two, the Pininfarina Battista can move from 0 - 27 mph or 100 kmph in just 1.9 seconds and onto a top speed of over 97 mph or 350kmph. The Italian electric hypercar is designed by the Automobili Pininfarina design team, led by Luca Borgogno, and legendary design house Pininfarina SpA. The Battista has a simple, yet elegant design similar to many Pininfarina-designed cars as well as Ferraris.
Some of the technical detailing includes a large bonnet scoop, a front carbon-splitter, a large active rear diffuser and the aerodynamically shaped contrast roof with a cab-forward design. A single LED strip runs on the front-end between the Battista's headlights. The cut-outs on the top of each end of the Battista's tail section look like two separate fins but are joined by a carbon fibre panel. The all-electric Battista is Automobili Pininfarina's first in-house model. With 1,900hp electric motors, Battista is expected to be one of the most powerful Italian production cars ever built. The company plans to produce 150 units and each unit will be individually hand-crafted at the Pininfarina SpA atelier in Turin, Italy.
7. Aspark Owl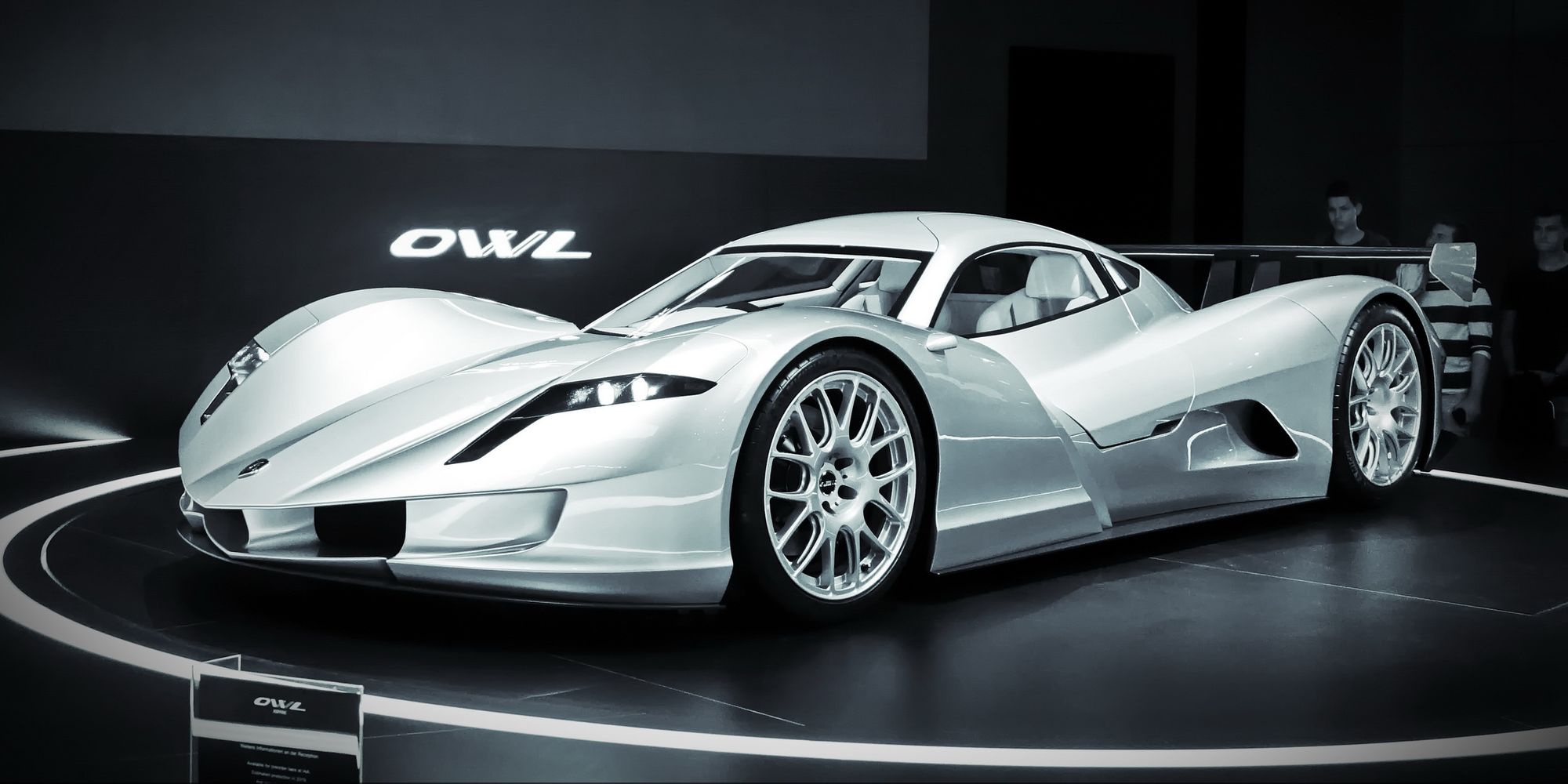 Aspark's full-electric hypercar Owl is a compendium of cutting-edge technology, functionality and design. With the ability to hit 60 mph or 96 kmph in less than 1.7 seconds, the Aspark Owl is known as the fastest electric hypercar in the world. The hypercar is powered by four electric motors that power each of the wheels reaching a combined output of 1,985 hp and 2000 Nm of torque. The electric motors enable the car to reach up to 97 mph or 300 kmph from standstill in just 10.6 seconds. The body is made up of lightweight carbon fibre monocoque chassis with 120 kg dry weight. To achieve peak aerodynamics, the hypercar features a hydraulic suspension with ride height adjustable from 80 to 100 m. The Owl features carbon-ceramic brakes on each corner with four-piston in the rear and 10 piston callipers in the front. The hypercar will be limited to 50 production units worldwide and will cost around USD 3.2 million (2.6 million euros).
8. Tachyon Speed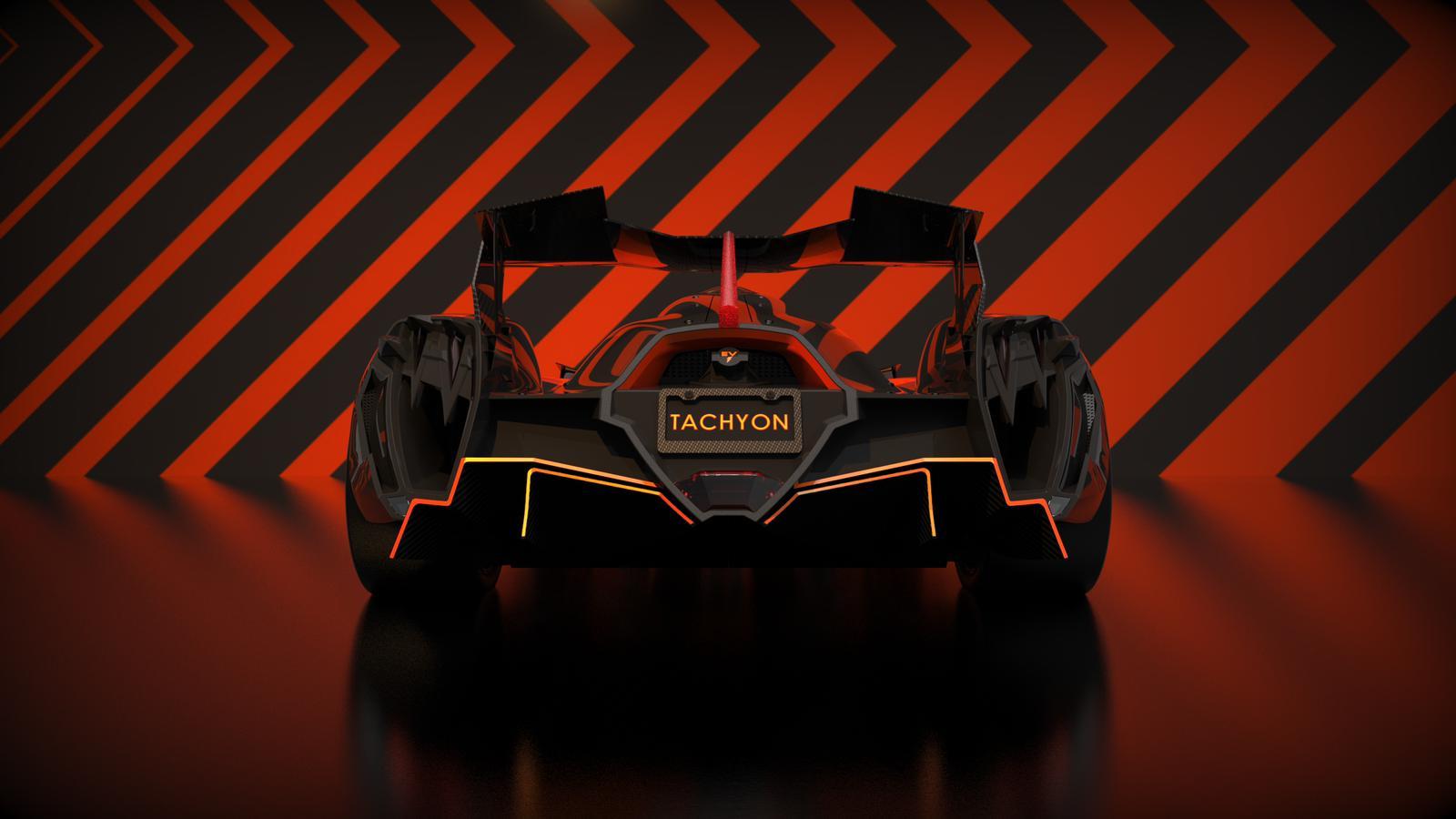 The Tachyon Speed is a street-legal electric hypercar developed by a California-based tech company called RAESR (Rice Advanced Engineering Systems and Research). The all-electric hypercar is named after tachyon, a hypothetical particle that always moves faster than light. The Tachyon Speed comes with six direct-drive electric motors, which develop 1,250 bhp and an earth-shattering 4,949 Nm torque. As per the claims made by RAESR, the hypercar can sprint from 0 - 60 mph or 96 kmph in less than 3 seconds with a top speed exceeding 240 mph or 386 kmph. Stylistically, the Tachyon Speed is similar to the Formula 1 inspired Caparo T1 and features unique aerodynamic systems, with four non-adjustable front wings and an adjustable rear wing that can provide over 454kg of downforce in high downforce mode. The carbon fibre bodywork features a jet fighter-style canopy with the interior tub made of Kevlar, resulting in a dry weight of 1,338kg. The platform is a futuristic chromium molybdenum tube frame constructed from Kevlar and the bodywork is complete carbon fibre. The rear wings are adjustable and operate as active aerodynamics. The Tachyon Speed also includes auxiliary charging options of the 800 volt system with a portable solar array, DC - DC rapid charging (less than 15 minutes), as well as standard 110v & 220v on and/or off board chargers (as fast as 3 hours). RAESR will produce limited units of the Tachyon Speed with a price range starting from USD 750,000 or 6,16,000 euros.
9. Elation Freedom
The Elation Freedom is a high-performance electric hypercar developed and manufactured by Silicon Valley based automobile manufacturer Elation Motors. According to Elation, the Freedom will be powered by a 100 kWh lithium ion battery and four electric motors that will make up to 1,903 horsepower and 1063lb ft of torque. Elation also claims that the Freedom will achieve a 260 mph or 418 kmph top speed, with the capability to reach 0 - 62 mph or 99 kmph in less than 1.8 sec, which would make it one of the fastest-accelerating production cars in the world. To achieve these benchmarks and state-of-the-art functionality, the Freedom is built around a proprietary, ultralightweight, carbon-kevlar monocoque chassis. The hypercar's sleek exterior features variable-pitch active aerodynamics, the chassis is fashioned in-house from the finest raw carbon fibre, which is supplied by a Venetian manufacturer. The battery is a T-shaped unit that's integrated into the car's chassis. The Freedom grants a range of 400 miles on a single charge and the battery spec can also be customized as per the client's requirements. The Elation Freedom will start at USD 2 million (1.6 million euros) a piece.
10. Hispano Suiza Carmen Boulogne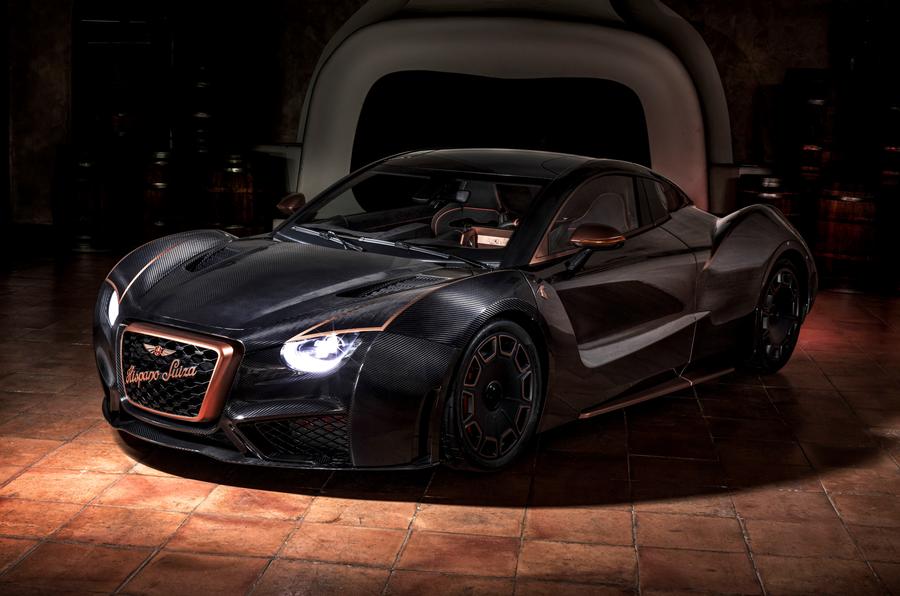 Hispano Suiza introduced the all-electric Carmen Boulogne at the 2019 Geneva Auto Show. The Carmen Boulogne can produce a total of 1,180 lb-ft of torque which is controlled through sophisticated vectoring systems developed in-house with the expertise gained in Formula E. With a 80 kWh lithium-ion polymer battery, the company claims the hypercar can reach from 0 - 62 mph or 100 kmph acceleration in 2.6 seconds. The design, engineering and production of the Carmen Boulogne is a result of the collaboration between Hispano Suiza and QEV Technologies, a company specialising in the development of electric motors and motorsports. The electric hypercar comes with a carbon fibre subframe, new CNC parts and four permanent-magnet synchronous engines, two on each rear wheel. One of the most impressive elements of the car is its automatic vertical-opening doors which look like stork wings. Also, the symbol used on the Carmen Boulogne pays tribute to a French pilot who was flying an airplane powered by Hispano Suiza during World War I. The Carmen Boulogne offers a fast charging capacity, requiring only 30 minutes to charge upto 80% through a CCS2 fast charger. The Hispano Suiza Carmen Boulogne is expected to come with a price tag starting from USD 1.9 million(1.65 million euros).
The enormous strides of research and development made in the electric hypercars segment have unlocked previously unachievable performance and torque figures in the realm of the gas-powered vehicles. With many staggeringly beautiful models launching in exclusive markets, electric hypercars have recently started to come into focus. As much for their sheer speed and spectacular styling, it is the ground-breaking technological innovation of these hypercars that changes the game. In the same way that Formula 1 technology opened the gates for the major players to develop exceptionally high-performance road cars, electric hypercars will pave the way for the future of day-to-day cars by pushing the absolute limits of technical and physical possibility.