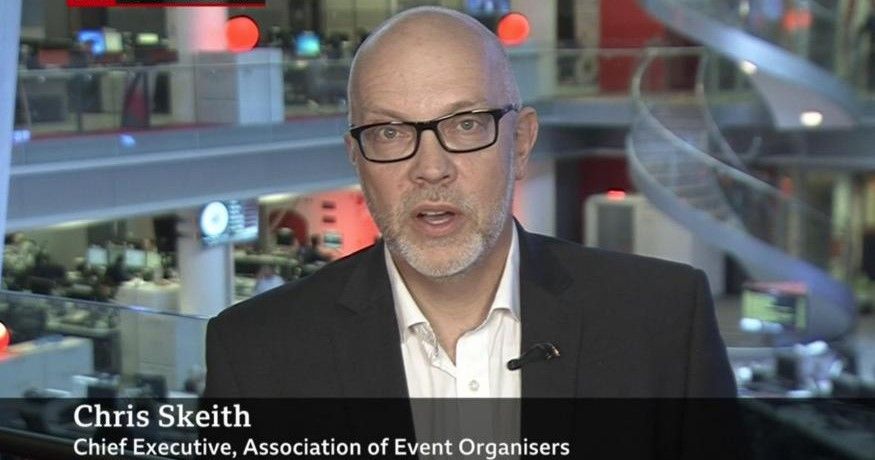 In response to the latest announcement pertaining to the newly revised and expanded coronavirus job support programme made by the UK Chancellor Rishi Sunak, chief executive officer of the Association of Events Organisers has issued a statement seeking "urgent clarity" on the applicability and scope of these measures on the country's events sector.
The 'second wave' of the pandemic has already compelled many regions around northern England and central Scotland to enforce strict lockdown restrictions again. And expectedly, the short-term predictions for the already heavily pounded event sector look somewhat complicated.
"The Chancellor rightly recognises that viable businesses impacted by government closure decisions need targeted support," said Skeith, "however, exhibitions companies have been forced to close since March and it is vital that they too are able to access these measures. We are seeking urgent clarity from the government as to whether these measures will be applicable to the events sector, as without targeted support we will see over 90,000 jobs lost in the coming weeks."  
As part of an on-going effort to save the events sector from hitting the rock-bottom and keeping it sustainable till the time normalcy returns, an open letter was also issued to the Prime Minister and Chancellor a few days ago. All the signatories of the letter including industry leaders, exhibitors, suppliers, and event management companies among others, strongly proposed a 'hibernation support package' for the industry up to a point when this pandemic gets subsided to controllable limits.
In his official announcement, the Chancellor promised that all those UK professionals who have been rendered jobless because of the shutting down of their companies in the wake of Covid-19 restrictions, will be eligible to receive two-thirds of their original wages/salaries from the state exchequer. This new adjustment comes into force from 1st November and will last for 6 months. Furthermore, the government has also made a commitment to provide trouble-free access to business grants for the forced-shut businesses in England. The grants may reach up to £ 3,000 a month and will be paid on a fortnightly basis.
However, there is an obvious lack of clarity in the statement as to whether the event professionals and management companies have been selected or not as the beneficiary of the expanded support scheme.
The next few days will be crucial for the UK events sector, and the favourable government response will go a long way in strengthening the revival campaign.