05 Sep, 2023: Marjan, the primary developer of freehold properties in Ras Al Khaimah, is set to introduce a W Hotel on Al Marjan Island through a collaboration between Marriott International, Inc., and Dalands Holding.
Scheduled for a grand debut in early 2027, W Al Marjan Island is set to attain a unique status. It will not only mark Marriott International's second foray on the island but also stand as W Hotel's inaugural establishment in Ras Al Khaimah. This introduction will bring the brand's distinctive design, exceptional service, and dynamic programming to the northern emirate.
Positioned on the flagship archipelago island of Marjan, framed by the stunning scenery of the Arabian Peninsula and embraced by the Yanas and Jais Mountains, W Al Marjan Island is poised to enhance the allure of this bustling leisure hotspot for travellers from around the world.
Boasting 300 hotel rooms and suites that offer breathtaking ocean panoramas, this impressive establishment is expected to encompass distinctive areas like the Living Room, WET deck, W Lounge, AWAY Spa, and FIT fitness centre, in addition to three dining venues and retail areas.
In a social media post, Abdulla Al Abdouli, CEO of Marjan, expressed immense pride in the announcement of W Hotel's inclusion on Al Marjan Island. He also expressed a deep sense of satisfaction in their significant role in enhancing the emirate's credibility and attractiveness to international investors. They firmly believe that this addition to their portfolio will not only set a higher standard for regional hospitality but also establish a new global benchmark, further bolstering the appeal of this northern emirate as a must-visit destination.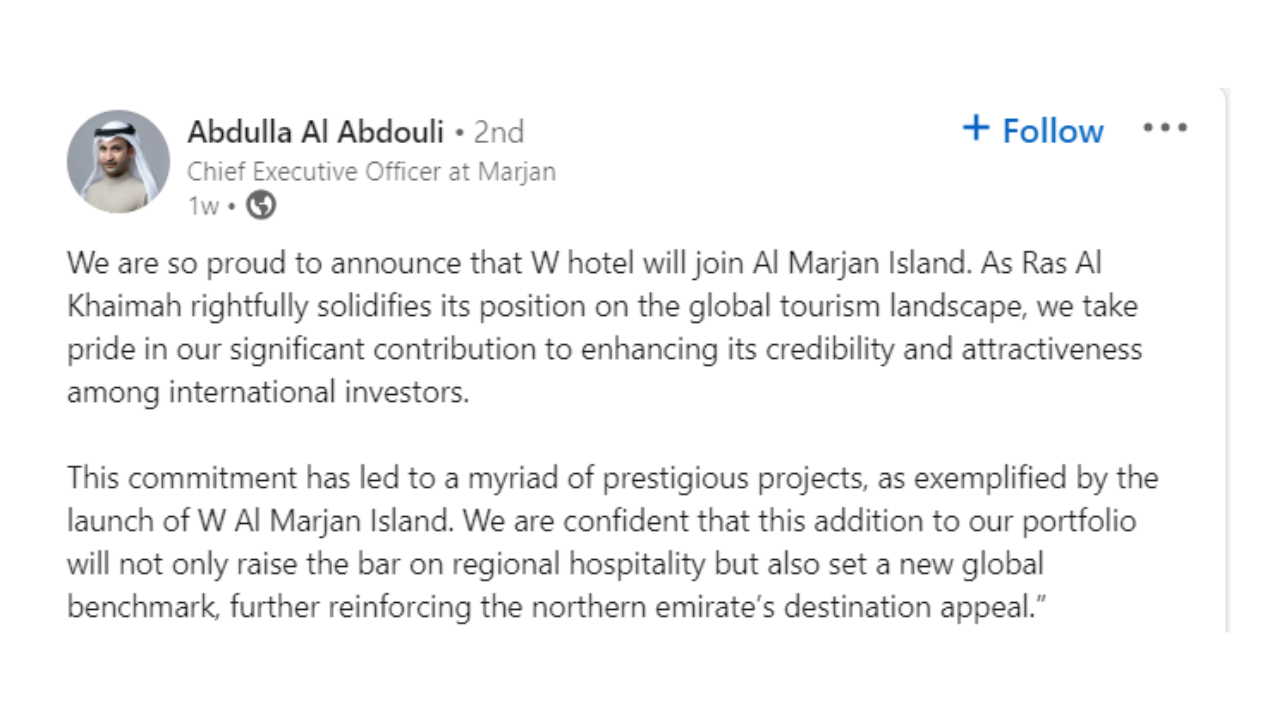 As Ras Al Khaimah continues to establish itself as a leading tourism destination in the region, the upcoming opening of the inaugural W Hotel marks a significant step in solidifying its position as a top global choice for investment and hospitality. This impending inclusion signifies far more than just the introduction of a new luxurious establishment; it serves as evidence of the northern emirate's steadfast commitment to crafting extraordinary experiences for tourists.