The ongoing coronavirus pandemic has wreaked havoc on global economies and presented a myriad of challenges for businesses across the globe. We are currently living through history's highest ever rate of change, and with stay-at-home orders and social distancing guidelines across the world, virtual events are replacing in-person events faster than expected.
Several large-format events are shifting to the all digital modes, many events including the Adobe Summit, which each year hosts thousands of delegates in Las Vegas, moved online in May, while Salesforce turned its World Tour Sydney into a virtual event and is turning its Dreamforce event virtual as well.
According to a survey by Bizzabo, 87% of major event organisers are running a virtual event in 2020. In addition, 90% of respondents from the survey are planning to invest in virtual events for the future.
Event organisers are prioritising delivering valuable content in a virtual format, which has made us privy to a lot of innovation and creativity.
Here are some of the best virtual events that were held in 2020 until now, and exactly what made them so effective.
Salesforce World Tour Sydney Reimagined
Salesforce was one of the first organisations to replace its physical regional World Tour event for Sydney with a "reimagined" version due to COVID-19 concerns. The event was a huge success as it provided an interactive audience experience, which is one of the most important virtual event success factors.
In addition to 80,000 livestream viewers, Salesforce said that the one-day event brought in 1.2 million video views across social media channels.
A competition known as the "battle of the apps" was initiated between participants. During the competition, every Salesforce AppExchange participant was given three minutes to showcase their apps via a real-time demo. To boost the overall engagement and excitement level further, the organisers had also introduced live audience voting for choosing the winner using an exclusive link, which was accessible for 24 hours only. The winner of the battle was announced on Twitter the next day. Not only was this an innovative and creative way to engage the audience, but it also generated a lot of buzz and post-event excitement. Even after the event was over, people continued to engage with the event's social media pages to check the results.
2. Tomorrowland Around The World — The Digital Festival
Revolutionising the digital festival space, the massive Belgian music festival - Tomorrowland created its stunning virtual platform and featured artists performing on virtual stages in front of thousands of virtual fans on a virtual 3D island. To get the virtual event ready in time, the team worked with over 200 experts to do what would normally take 2 years in just 3 months.
According to an official release by Tomorrowland, over 1 million people from around the world tuned in to the digital festival.
To render the entire virtual world, Tomorrowland had to create 4 large green screen studios around the world. The sets were 8m wide, 6m or higher, and at least 8m in depth to recreate the big scale effect.

There were 280,000 virtual people in the crowds, each having their own attributes including flags and lights. One of the most impressive elements of the digital festival was the crowd, the way the avatars reacted to certain melodies and drops with a cheer or a hum was very engaging. Definitely one of the biggest things that has ever happened in the digital world this year, Tomorrowland worked extremely hard to ensure that the attendees could enjoy the digital festival to the fullest.
3. Adobe Summit 2020
With more than 23,000 expected attendees, Adobe was scheduled to hold its annual conference in March and had more than 500 sessions planned across four venues on the Las Vegas Strip. Once it became clear that this event couldn't happen due to the COVID-19 crisis, the company reimagined the conference as a fully digital experience.
This year, Adobe Virtual Summit featured some of the best keynotes from top Adobe executives and over 100 on-demand breakout sessions across six tracks to fathom the latest trends in customer experience. These tracks included content; B2B; data & insights; commerce, advertising and journey management. The event had 100,000 registrants and there were over 450,000 visitors to the online conference.
Adobe also launched its Digital Economy Index which analyses trillions of transactions and terabytes of Adobe Analytics data in real-time to measure powerful and deep insights that help users act on the changing global digital economy and commerce trends.
4. Google SheetsCon
SheetsCon drew over 6,700 registrations and thousands of attendees logged in to watch the live keynotes and presentations. Google SheetsCon, as part of their event, hosted a contest that gave participants an opportunity to win one of the 25 company swag bags that contained branded event shirts and stickers.
To win, participants had to share something about the event on their respective social media using the dedicated event hashtag #SheetsCon2020 or they could also visit five or more sponsor booth pages during the event.
Considering how social media can be the perfect platform for increasing brand reach and sales, it was a win-win for everyone. While the organisers of Google SheetsCon increased brand awareness, winners got their goody bags. A simple concept, but a successful one nonetheless.
5. Sports Backers' Great American 5000
The Great American 5000 event took virtual travel experience  to a whole new level by giving people the opportunity to participate in a three-month virtual run from San Francisco to New York.
Registrants were assembled in a team of 12 or 24 people and covered a total of 24 hours a day to progress along their 5,000 kilometre trek.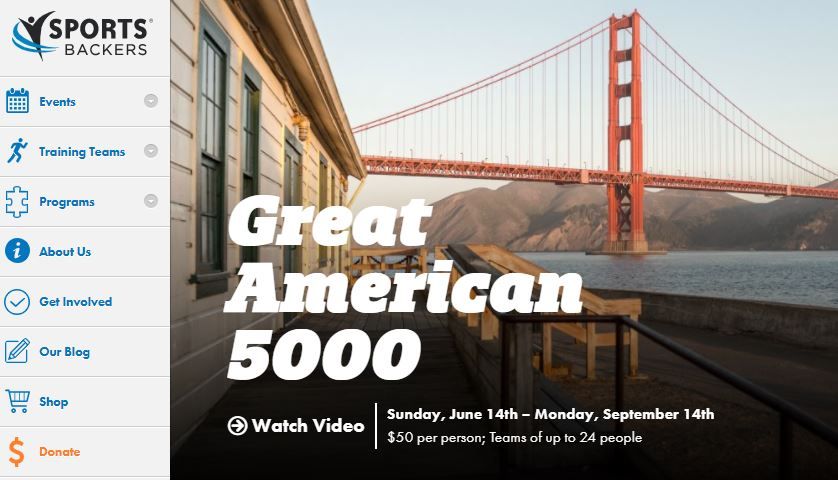 To track each group's cross-country progress, a virtual map track and a leaderboard was used. Runners were tracked via GPS apps such as Map My Run, Strava, etc. To complete the journey, teams were given a maximum of three months starting from June 14th till September 14th. Additionally, teams were encouraged to make their run across the country a little more real by donating and raising funds for Feeding America and supporting those in need during this crisis.
Key Takeaways:
Prioritise branding and visuals because without an actual physical event space, they represent both your design and your environment.
Ensure you deliver valuable content during each session. Prepare a mix of live and pre-recorded sessions with regular breaks.
Use various engagement tools including hashtags for increasing brand reach and to keep the discussion going on social media.
Create engagement and networking opportunities for participants like networking sessions, 1-2-1 meetings or even a virtual lobby where attendees can meet and interact.
Conclusion
From showcasing new products to making major announcements, today virtual events are the go-to solution for everyone. Major event organisers have already started planning their events as virtual or hybrid for 2021. With a comprehensive strategy in place, virtual events can create remarkable online attendee experiences, but if you want to maximise results, you need to start being more creative and make the events more interactive.